2023 GMC Yukon 4WD DENALI 8 SEAT + TV GCC
SOLD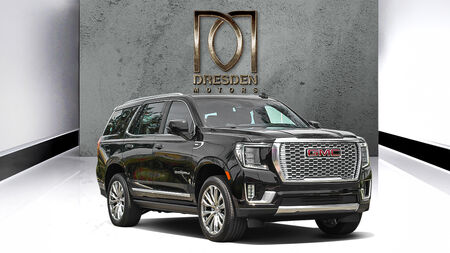 2023 GMC
Yukon 4WD DENALI 8 SEAT + TV
FOR MORE INFO. CALL US Landline: +97143331988
Engine:

6.2L V8

Exterior:

Black

Interior:

Brown

Body:

SUV

Transmission:

Automatic
Description
The 2023 GMC Yukon 4WD Denali is a luxurious and rugged full-size SUV that offers a remarkable combination of style, performance, and versatility. With its 8-seat configuration, it's designed to comfortably accommodate both passengers and cargo, making it an ideal choice for families, groups, or anyone who requires ample space and premium features.
The Yukon Denali is likely to feature a powerful engine option, such as a V8, that provides ample horsepower and torque for confident acceleration and towing capabilities. The 4WD (four-wheel drive) system ensures excellent traction and stability, making it suitable for a variety of driving conditions, including off-road adventures and inclement weather.
Dresden Motors - luxury car Showroom in Dubai, your definitive destination for all things automotive excellence. Whether you're in the market for a new car for sale, seeking used and pre-owned cars, or dreaming of owning one of the top 10 luxury cars in Dubai, your journey begins with us. As the best car showroom in Dubai, we pride ourselves on offering an unrivaled selection of vehicles that cater to the desires of discerning car enthusiasts. Wondering about the cost of supercars in Dubai or luxury car prices in the city? Look no further – we're here to provide you with transparent and competitive pricing, ensuring that your experience of buying a luxury car in Dubai is as seamless as it is thrilling. With our extensive inventory, including sports cars for sale, finding the perfect match is a breeze. Discover not just a showroom, but a haven of automotive dreams, right here. Best car showroom near you? That's us, ready to transform your aspirations into reality.