2023 Chevrolet Tahoe Premier Black Edition 4WD +TV GCC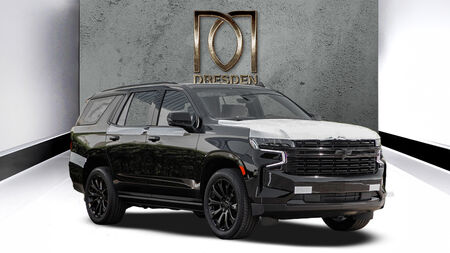 Description
Discover the Chevrolet Tahoe Premier 4WD 2023: Your Ultimate Spacious SUV with Marvelous Performance When it comes to plenty of space for both passengers and cargo, the 2023 Chevrolet Tahoe stands as an unrivaled champion, embodying expansive roominess that perfectly caters to your requirements. As a premier large SUV, the Tahoe masterfully harmonizes its generous dimensions with remarkable road agility, firmly establishing its dominance within its class. With a diverse selection of engine options, the Tahoe assures gratifying towing capacity, ensuring a seamless match for your preferences.
At the core of its lineup lies the robust 355-hp V-8 engine, while enthusiasts seeking elevated power can effortlessly elevate their experience with the commanding 420-hp V-8, just a checkbox away. Notably, the 2023 Tahoe introduces an innovative six-cylinder diesel inline-six option, further widening your scope for enhanced performance and efficiency. Embark on a journey of sheer convenience with the standard three-row seating, thoughtfully integrated across all trims, including the base LS model. Even at the entry level, the Tahoe boasts coveted infotainment and driver-assistance technologies, ensuring an immersive and secure driving encounter.
Experience the height of SUV excellence at our famous car showroom in Dubai. As a leading car dealership in Dubai, we invite you to explore the Chevrolet Tahoe 2023 and indulge in luxury, performance, and innovation like never before. Discover the attraction of Dubai luxury cars for sale and elevate your driving experience to unparalleled heights with the Chevrolet Tahoe 2023. For Chevrolet Tahoe 2023 price in Dubai and personalized consultation, visit us at Dresden Motors, your valued Dubai luxury car showroom.